<![if !vml]>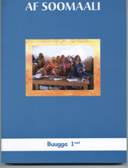 <![endif]>
The civil war caused the emigration of hundreds of thousands of Somali families to different parts of the world. There are a lot of children who were brought abroad in their early childhood or were born abroad. Most of them cannot write the Somali language and some of them cannot even speak it.
Many research proves that people who are bilingual have many advantages in their knowledge and cognitive skills. The Somali children have a good chance to become bilingual, because they are from Somalia and they live in countries where the Somali language is not spoken.
The Somali community organizations work hard to help children and their families in the educational field, but because of lack of a curriculum and materials like books etc. it becomes very hard to teach the young generation the Somali language.
This book is the result of long and hard work of experts and primary school teachers of the Somali language. It is based on the Somalia curriculum and is somewhat compares well with the European curriculum at the same level.
This book will be a good support to the children and their teachers whether they are in Somalia or elsewhere. We are committed to complete the whole series of primary school and secondary school materials from key stage 1 to key stage 4.
I hope you support this endeavour to have the Somali children keep their language identity and culture.
Abdirahman Mohamed Abtidon